The gardens of 2009 grow well here in Serendipity Shore.

A native plant helps to create a living fence and a flower that had always refused to grow adds stunning vertical interest to the gardens.

With pics, of course.

HERE

Pic of the Day
---
Gardens Bloom Fine Despite Neglect
I didn't expect much from my gardens this year in that 2008 was a horrific year here in Serendipity Shore. Husband came down with a terrifying brain infection and I had a quadruple coronary bypass. It wasn't that working the gardens was forbidden to me as it was, indeed, encouraged for the exercise.
But husband needed intravenous IV's some six times a day and was so sick that I had to carry the full domestic load. It was enough that I was able to get Fall's leafage gathered to the compost pile in early spring 2009.
I had transplanted some bushes that were growing lackluster in various places on the lot. A native plant, a Swamp Rose, was moved from the center lawn garden to a spot alongside the driveway where I am creating my "living fence". I have mixed emotions about this plant. First, it was sold at a plant sale featuring plants indigenous to Delaware and these plants always do better as one might expect. Problem is, the things grow a bit too well. In the first year of its planting the thing was sprouting everywhere as it turns out that it throws out underground tendrils and takes over the world. This would not do in a contained garden environment. So I spiked out all the annoying tendrils and put it in a spot where it can grow bejeesus to create a living, green wall alongside my driveway. Way I figure, it can give the huge hedge rose some competition.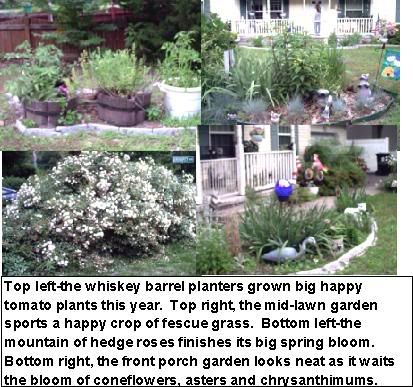 My container garden looks great at street's edge. The clemantis have grown better than I dared to hope. I've tried for years to grow these things and never could do it. I understand that they like their roots shaded and my logic was that the handsome obelisk lawn decoration I have would help to shade the roots of the vine.
In fact it is the leaves and blooms of the clemantis itself that provides shade for its own roots. The obelisk gives it a place to grow vertical and from now on this gardener will tout a vertical gardening feature as a must-have in all happening gardens of our era.
=============
To the Main Blog…Over a Million Page Views
EMAIL ME

==========
Here's a well-written book by Edward Humes titled "Mean Justice".

The author tries to make a case that Pat Dunn was wrongfully convicted of killing his wife Sandy via a "mean justice" that includes lying witnesses, runaway prosecutors and a right-wing public with little patience to get at the truth.

Only there's gaping holes in the author's arguments and I take them on in this book review.

HERE
=============
Bachelorette Jillian keeps looking for a "connection" in The Bachelorette series now with 7 contenders left vying for her heart.

The Wise I tells Jillian what she really needs to look for in these contenders and first she needs to find out what the hell a "pizza entrepreneur" is.

With pics and video you'll find nowhere else on the Internet.

HERE
===========
Two would-be Food Network Stars have been sent packing and in this update based on the episode aired 6/14/09-we review the remaining contenders, who looks promising, who desperately needs to go and the foods they serve get a close eyeball.

Brussels Sprouts Hash?

All with pics and video you'll find nowhere else on the Internet.

HERE
============
Two fine, fine liberal ladies show us their stuff to the innocent who mistakenly call them…LIZ or MA'AM.

Nasty names them.

In this THOUGHTS post we have the whole story of Elizabeth who shall destroy those who call her Liz and Barbara Boxer must NOT be called Ma'am.

Plus a letter that sums up the tea parties and the feelings of us peons across the fruited plains.

Good Guys of the Week, Bad Buys of the Week, Quips of the Week and it all Ends With a Smile.

HERE
===========